What is Gold Vermeil: Your Quick Guide For Success
Gold jewelry has gained popularity and is widely available in recent years. However, the market is overflowing with options, making it difficult to decide what to buy. That's where we come in with our comprehensive guide to gold vermeil. We'll provide you with the pros and cons so you can make an informed decision.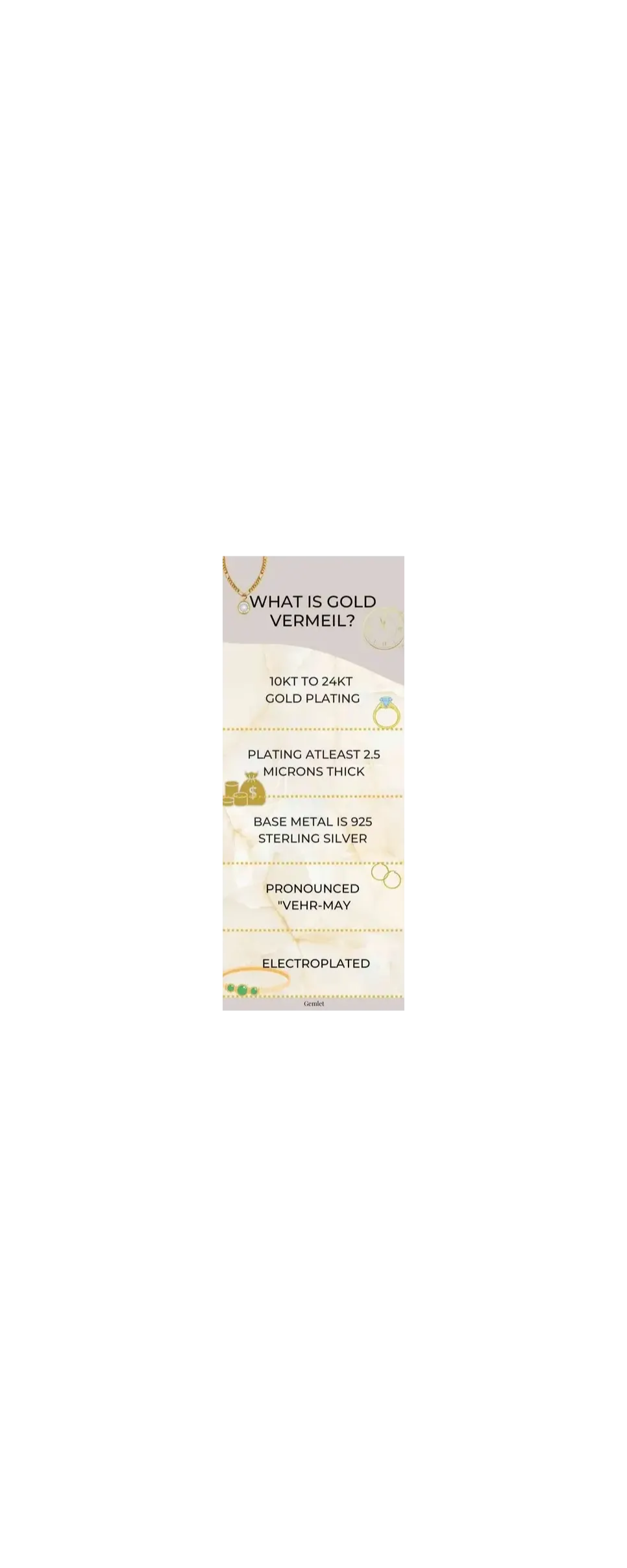 Vermeil is a specific type of jewelry defined by law in the US. It refers to jewelry made of a Sterling Silver base with solid gold electroplated on top. To be considered gold vermeil, the following requirements must be met:
The base material must be Sterling Silver, an alloy made of 92.5% pure silver and 7.5% other metals, and stamped 925.

The gold plating must be at least 10k gold and can range from 14k to 24k gold.

The plating must be at least 2.5 microns thick.
Gold vermeil is a durable type of gold jewelry that provides the best of both worlds. The base metal is Sterling Silver, making the piece precious, while a thick layer of gold electroplating adds the golden shine. Unlike cheap gold plated jewelry, gold vermeil has a thicker layer of gold, reducing the chances of fading, tarnishing, or wearing off. The process of making vermeil jewelry is known as vermeil.
How to pronounce Vermeil?

Vermeil can have multiple pronunciations, but the French pronunciation of "vehr-may" is a commonly used one. There are also a few other correct pronunciations.
No, typically not. Gold vermeil is a high-quality option that lasts long, even though the base layer is Sterling Silver and can tarnish over time. However, gold vermeil has a thick layer of gold that prevents much tarnishing, making it a good option for those who don't want to spend a lot of money on solid gold.
Yes, vermeil is real gold, at least 10 karat, electroplated on Sterling Silver. Solid gold can range from 10k to 24k, but jewelry is often made of 10k, 14k, or 18k gold. 18k or 14k gold is commonly used for vermeil jewelry.
No, metal cannot be truly waterproof as minerals and deposits in regular water can damage jewelry. While showering with vermeil is usually okay, it can hasten the degradation of the jewelry due to the soaps, shampoos, and conditioners used. Avoid wearing vermeil jewelry in the pool, hot tub, or ocean as it can permanently alter and damage the jewelry.
Is Vermeil Hypoallergenic?

Yes, gold vermeil is hypoallergenic as it is made of only precious metals and does not cause any reaction in most people.
Is Vermeil of Good Quality?

Gold vermeil is the highest quality jewelry you can buy after solid gold. It is an excellent and affordable option for gold jewelry and ranks high in the demi-fine jewelry category.
Is Vermeil Better Than Plated Jewelry?

Yes, vermeil jewelry is a better option than plated jewelry as there is no industry standard for the thickness of gold in plated jewelry. With vermeil, you get a high-quality item with a thicker layer of gold.
Is Vermeil the Same as Gold Plated?

No, vermeil and gold plated jewelry undergo a similar process, but vermeil has a legal definition under US law and typically lasts longer and is less likely to fade or tarnish. Gold plated jewelry has no standard for thickness, which can vary in quality.
Yes, gold vermeil rings can be easily resized by a jeweler, although the appearance may change and require replating with gold.
What's the Difference between Vermeil, Gold Plated, Solid Gold, and Gold Filled?

Yes, all gold will eventually tarnish as the metal alloys in the gold react with oxygen. Tarnishing can be easily polished away or shined with a polishing cloth, or cleaned professionally by a jeweler.
Will Vermeil Tarnish or Turn Green?

Gold vermeil will not turn your finger green as the green hue on fingers from cheap jewelry is often from an abundance of copper in the metal alloy. Gold vermeil does not have this reaction as solid gold does not cause a green hue.
Gold Vermeil vs Solid Gold

Vermeil is real gold, a method of creating high-quality affordable gold jewelry by electroplating solid gold on Sterling Silver. It is the next best option after solid gold for high-quality gold jewelry.
Gold Vermeil vs Gold Plated:

Vermeil jewelry is distinguished by its thickness, with a standard gold layer much thicker than a gold-plated piece. Gold-plated pieces often have a cheap base metal.
Gold Vermeil vs Sterling Silver:

All vermeil pieces have a base layer of Sterling Silver, providing a precious metal foundation. Sterling Silver pieces can easily be polished to their original shine.
Gold Vermeil vs Gold Filled:

Both gold filled and vermeil pieces are similar to solid gold but the term "gold filled" can be misleading. Gold filled pieces have a less expensive base metal covered with a thick layer of gold plating. So Gold filled wins with a higher gold composition, but Gold Vermeil is also not bad with it's higher quality base metal of sterling silver. Read more about Gold Filled Rings: A Timeless Symbol of Elegance and Class here.
Gold Plated vs Gold Filled:

Gold plated pieces have a thin layer of gold over a metal alloy base, while gold filled pieces have a low-quality base metal covered with gold plating. Gold plated pieces may have a higher quality base.

When choosing gold jewelry, consider personal style, budget, and any sensitivities. Do you prefer low-maintenance jewelry or are you okay with occasional polishing? The answer to these questions will help you determine the best type of gold jewelry for you.
How to style Gold Vermeil Jewelry?

Gold vermeil jewelry is a great addition to any fashion lover's collection. This versatile material is a perfect blend of elegance and affordability, making it an ideal option for those who want the look of solid gold without the high price tag. Here are some tips on how to style gold vermeil to get the most out of this beautiful material.
1. Mix and Match with Other Metals
One of the great things about gold vermeil is that it can easily be paired with other metals. Mixing and matching with silver or rose gold jewelry can create a unique and stylish look. For a more modern and edgy vibe, try combining gold vermeil with stainless steel or black metal accents.
2. Go Bold with Statement Pieces
Gold vermeil is a great option for statement jewelry, as it is eye-catching and bold. A large gold vermeil pendant necklace or a chunky gold vermeil bangle bracelet can be the focal point of an outfit. Try wearing a statement piece with a simple, monochromatic outfit to let the jewelry truly shine. Read more on Chunky and Bold Jewelry.
3. Dress It Up or Down
Gold vermeil is a versatile material that can easily be dressed up or down. For a more formal occasion, try pairing a gold vermeil choker necklace with a chic cocktail dress. For a more casual look, try layering gold vermeil necklaces with a simple t-shirt and jeans.
4. Layer It Up
Layering is a great way to get the most out of your gold vermeil jewelry. Try layering different lengths and styles of gold vermeil necklaces, or stacking multiple gold vermeil bracelets. This not only adds depth and texture to your look, but also allows you to create a unique and personalized style.
5. Experiment with Textures
Gold vermeil comes in a variety of textures, from smooth and shiny to matte and hammered. Experimenting with different textures can add dimension and interest to your look. Try pairing a smooth gold vermeil bangle with a hammered gold vermeil ring for a unique and eye-catching combination. Learn more about different types of gold chains with our Best Types of Gold Chains.
6. Embrace Color
Gold vermeil can be paired with other colors to create a stylish and eye-catching look. Try pairing a gold vermeil choker necklace with a brightly colored blouse, or wearing a gold vermeil bangle bracelet with a printed dress. This is a great way to add a pop of color to your outfit while still maintaining a classic and elegant look.
7. Keep It Simple
Sometimes, less is more. For a more minimalist look, try pairing a simple gold vermeil pendant necklace with a crisp white blouse. This is a great way to add a touch of elegance to a more casual look, without overwhelming the outfit.
In conclusion, gold vermeil is a versatile and affordable material that is perfect for those who want the look of solid gold without the high price tag. Whether you prefer bold statement pieces or minimalist designs, there are endless ways to style gold vermeil to suit your personal style and budget. So, go ahead and experiment with different styles, textures, and colors to create a unique and beautiful look that is all your own!